Can I edit the invoices that I have already sent?
To edit invoices that you have already sent, you have to first enable the option. To do so:
Click on

Settings

(gear icon) on the right top corner.
Go to

Preferences.
Navigate to the

Invoices.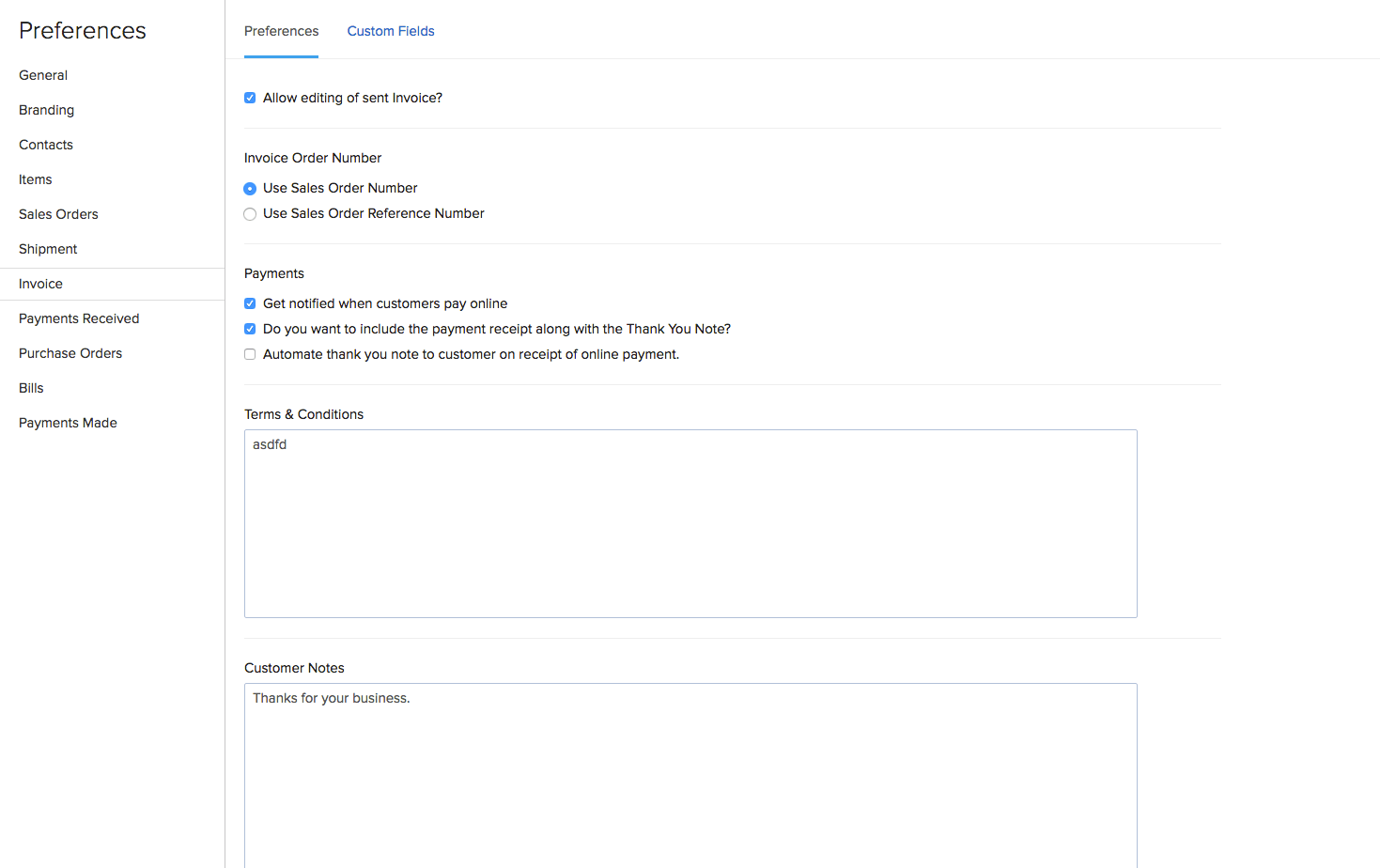 Related Articles

How do I monitor the status of my estimates/invoices?

Monitor Estimate Status Estimates can be viewed according to whether they're 'Sent', 'Accepted', 'Declined', 'Invoiced', 'Client Viewed' or 'Expired' (Note : An accepted estimate might show up under all three ...

How do I show the Tax Summary Table on my sales orders and invoices?

You have the option to enable the Tax Summary Table on your invoice and sales order templates. This table shows the tax break up on a transaction level and is available currently for the Global edition organizations, AU Tax Registered organizations, ...

Add or Edit a Team Folder Description

Add a description for your Team Folder, so members will know what the Team Folder is for. You can modify the description of your Team Folder as and when your projects change. Only Admins and Organizers can add or edit Team Folder descriptions. To add ...

How do I customize my invoice?

Go to Settings > More Settings > Templates and select the invoices tab. You can edit the predefined invoice templates by clicking on the Edit button that appears when you hover over them. You can also create a new invoice template by selecting ...

How do I turn off/on auto generation of invoice numbers?

To turn on/off auto generation of invoice numbers, click on the tiny settings button right next to the field 'Invoice number'. Here you can choose to either enable or disable auto generation. This can be done both while converting an estimate into an ...